Application in Aerospace industry
Vibration, displacement and rotation measurement under vaccum condition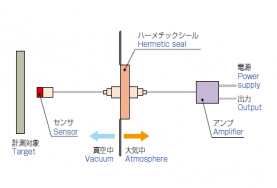 Vibration, displacement and rotation can be measured under vaccum condition by taking advantage of the environmental resistance. The materials of the sensor can be used in a vaccum, and hermetic seal is adopted for separation of vaccum from the atmosphere. In actual applications, this gap sensor has been used in a vaccum of up to 1.33 × 10-2 Pa.
Axis vibration measurement of high-speed destructive tester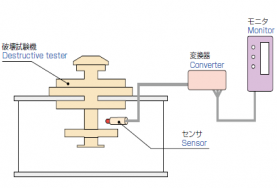 Measure axis vibration of high-speed destruction tester which has been used in the durability test of turbine blades of jet enjines. The sensor which is used in combination with our monitor allows you to grasp the condition of the tester and the state of the tested component.