Application in Railway industry
Magnetic levitation control for linear motor vehicles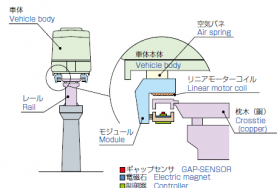 The electromagnets installed in a vehicle body exert a gravitational pull on a rail from the bottom, and then levitate the vehicle body with buoyancy.

Gap sensors control to keep the constant separation between the magnet and rail, so contact between them does not occur.
Detection of vehicle's position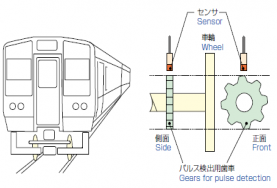 Detect the rotating pulse from the gears installed in wheels of railway vehicles to calculate the running speed. Base stations control operation of rolling stock by using the data from the sensors.
Track state monitoring system
Measure displacement of a wheel attachment plate by setting gap sensors to the side of the wheel of railway vehicle. Moreover, it measures distortion of truck flame by using eddy current sensors to measure lateral pressure. Wheel load can be measured by distortion of truck flame, and the wheel load is used for calculating derailment quotient.