Civil engineering and Architecture
Application in Civil engineering and Architecture industry
Measurement in asphalt slope flow test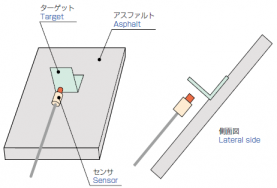 Slippage of asphalt by inclination is tested by a gap sensor in a model experiment.
Slippage of asphalt is measurable by setting a target for sensor to inclined asphalt to measure displacement of the target.
Measurement in soil testing machine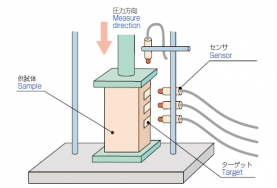 Soil properties(strain and deflection) are measurable by mounting sensors on a consolidation test mashine which is used in a soil test and measuring displacement when a sample is pressed. Usually, a thin iron plate or aluminium foil are mounted on the sample to use the sensors.
*If a target does not generate eddy current, another target which generates eddy current must be mounted as preparation for measurement.